Purifies rooms and homes up to 1000 square feet
Kills bacteria, viruses, germs and mold in the air and on all surfaces
Removes odors from furniture, clothing and carpet naturally
Virtual smoke eater - removes tobacco smoke and odors
Approximately 10" X 11" X 5"
Portable, energy efficient and inexpensive to operate
No maintenance!
No need to buy multiple air purifiers, one can clean your entire house!
Detailed Product Description
>Is This Purifier Right for Me?
If you have these air quality problems, then you need this UV air purifier:
mold or mildew
odors from mold, cooking, pets, etc.
smoke odors from cigarettes or cigars
bacteria or viruses
household chemical fumes
What is a UV Air Purifier?
UV air purifiers are unlike any other air purification system available today. They are actual air cleaners that rid the air of biological contaminants like bacteria, viruses, mold and hazardous fumes and also neutralize all odors. Click here to learn more about UV Light Technology.
UV air purifiers, like the Biozone air purifier will actually clean the air and surface of unwanted contaminants all from one central location in your home, office or apartment by creating a "blanket" of cleaning agents that search out pollutants to all four corners of a room.
Biozones are the perfect companion to anyone suffering from occasional or frequent colds and flues, harmful mold growth and/or unpleasant odors.
How Does the Biozone Work?
The Biozone air purifier uses 5 technologies to purify the air which makes them one of the most dynamic air purifiers on the market today.
Biozone Pure Wave technology creates a true smoke eater clinically proven to remove more cigar and cigarette smoke odor.
5 Types of Technologies
1. Photo Catalytic Oxidation, PCO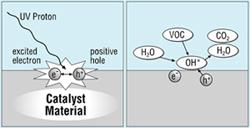 In this process organic molecules are effectively broken down and there reproductive nature destroyed by Biozone's Advanced PCO technology using the energy of UV-photons thus impeding the growth of any further unwanted contaminants in your home.
2. Photoplasma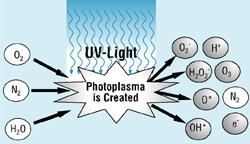 This is a gas that is fully ionized by UV-light containing ions and free electrons. The plasma that is created or electrically charged particles of the plasma (electrons) seek out and destroy many different types of molecules.
It reduces airborne and surface micro-organisms
Oxidizes most chemicals
Destroys and prevents mold and fungi buildup on any surface
Removes particles from the air
3. Germicidal Light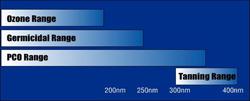 The UV Germicidal lamps, used in all Biozone Air Purifiers, have specially formulated glass that passes through the deep UV light wavelength of 185nm. This generates efficient germicidal light that sterilizes and breaks down harmful electron bonds in unwanted particles.
4. Negative Ions 
These are electrically charged particles which have gained or lost electrons. Negatively charged ions have excess amounts of electrons giving them a negative charge. Biozone's devices are creating these negative ions and they float around in the air interacting with chemical compounds and micro-organisms. They attach themselves to the airborne contaminants in the room and destroy them. Along with Ozone they contribute to Hydroxyl radical formation which is one of the most effective antiseptic species.
5. Ozone

Ozone is a gaseous compound that is normally found in the atmosphere. It is produced by the reaction between Oxygen and UV-light. It is formed of three oxygen atoms. It is a bi-product of this whole process and the amounts generated are managed through the use of custom-designed, dual-purpose UV lamps, therefore blocking part of the UVC spectrum that contributes to a higher production of Ozone. Ozone's properties as a bactericide, viricide, fungicide, and deodorizer are well accepted by the scientific community. It can effectively and efficiently be used for killing harmful micro-organisms and destroying harmful substances such as VOC's.
What Maintenance is Required for This Air Purifier?
Virtually None!
The only thing you have to do is replace the UV Germicidal Light Bulb once a year; it's just that easy!
It is important to replace the bulb every year to ensure that the unit is working at peak performance and to prevent the bulb from burning out. If this occurs, you will need to replace the fuse as well as the bulb.
As a courtesy, our highly attentive staff will remind you, via email, every year that it's time to replace your lamp. So sit back, relax, and enjoy the benefits of maintenance free air purification.
How Do I Select the Right Size For Me?
Start by calculating the size of space you need to clean. If you have a 1200 square foot home, you would need the Biozone 2000 which is the only Biozone that can cover that square footage.
Make sure you don't choose a Biozone that covers a much larger area than you have. The reason is that once the Biozone cleans the designated area, you might notice a clean, somewhat metallic smell in the room. This means the Biozone has done its job. While most people really enjoy this fresh clean smell, the smell can become overwhelming if the purifier is too large for the area.
You should select your Biozone air purifier based on the pollution level, square footage, and ceiling height of each area you want the air cleaner in. If your floor plan has a lot of walls and doors you will probably need a purifier in each room or on each floor. On the other hand, if you have an open floor plan you could get by with one larger purifier. The following guide will help you in deciding what size Biozone is right for you.
Our standard ratings assume rooms with average to light odor and contamination. If the condition of that room is affected by other contaminants, we have developed a set of rules that incorporate the use of a contaminate multiplier factor to better estimate the size of the purifier required.
| | |
| --- | --- |
| Contaminant Factor | Description of the Target Area |
| 1 | Light Odor, No Pets, No Smokers, etc... |
| 2 | Light Odors, No Pets, No Smokers, etc... |
| 3 | Moderate Odors, 2 Pets or Mild Smoking, etc... |
| 4 | Moderate Odors, Multiple Pets and Smoking in the Home or Business, etc... |
| 5 | Strong Odors, Moderate VOC's, Multiple pets and/or Smokers, ongoing pollutants such as restaurants, hair salons, vet offices, etc... |
| 6-10 | Extreme Odors, Heavy VOC's, Bars with Heavy Smoke, Nail Salons, Commercial Chemical or Animal Areas, etc... |
Example 1: given a 1,000 to 1,500 sq. ft. of area in a single-level home with one indoor smoker. Multiply the 1,000-1,500 by the contaminate factor of 2 to get 2,000 to 3,000 sq. ft. depending on the layout of the house (consider the larger open spaces and overall air flow, the number of rooms) you can either purchase two stand alone Models of a 1000 and a 2000 unit (3,000 sq. ft. total), or two single stand alone Models of 1000 to reach the 2,000 sq ft total.
Example 2: given a 500 sq. ft. of area in a single-level home with occasional smoking and a couple of pets. Multiply the 500 by the contaminate factor of 3 to get 1,500 sq. ft. A 1000 model with a 500 model could be purchased, or one 2000 model for the entire room.
Where Can The Biozone Be Used?
Biozone Air Purifiers can be used in countless applications, ranging from basic odor control, to heavy-duty decontamination and sanitation.
You Can Use the Biozone Anywhere Imaginable!
bedrooms
houses
offices
warehouses
manufacturing plants
animal hospitals
farms
automobiles
recreational vehicles
restaurants
kitchens
schools
beauty salons
restrooms
medical facilities
stores
night clubs
bars
colleges
gymnasiums
locker rooms
churches
government facilities
etc.
Who Should Not Use the Biozone Air Purifier?
Biozones were not designed to remove dust, pollen, and smoke particles from the air as a filter-based unit would, however, they will significantly reduce the amount of odor and reproductive function of any particulate. To rid the air of large particles such as pollen, pet dander and smoke, especially that of a chain smoker, you must use a filter-based unit such as our Blueair Air Purifiers, IQAir Air Purifiers or Cleanaire Air Purifiers.
Severe asthma sufferers should choose an air purifier that does not use ozone as a method of purification such as the Blueair Air Purifiers, Neoair Air Purifiers, or Mini Max Water Air Purifiers. In very rare cases, ozone was known to trigger asthma symptoms in ultra-sensitive individuals so to prevent the possibility of this occurrence, we strongly recommend choosing another, ozone-free air purifier.
Technical Specifications:
Unit Weight: 6 lb.
Dimensions: 10"(W) x 10.5"(H) x 4"
Coverage Area: 1000 square feet
Operation power cost: $1 - $3 a month
Power: 120 V/60 Hz
Power Source: 12-V DC with accompanying adapter
Low-maintenance Unit: no filter to change, replace lamp once a year
3-position output control for adjusting to pollutant levels and available space
Purifying Method: photoplasma, UV, ions, and ozone Biozone Technology
Biozone's Purify the Air and Surface
Biozone is one of the best at eliminating the following from the air, hard surfaces, carpets, draperies, furniture and clothing:
Odors such as smoke (from fires, cigarettes, cigars) pets, gym clothes, kitchens, bathrooms, mold, and musty basements, etc.
All Viruses and Bacteria.
VOC's (Volatile Organic Compounds) released from new paint, carpet, wood, building materials, furniture, cleaning chemical, etc.
Mold and Mildew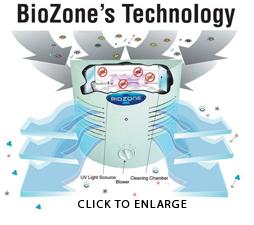 Biozone Uses Nature's #1 Source of Cleaning Power: Negative Ions
Ions are natural particles in the air that have either a positive or negative charge and are found naturally in the air. Negative ions attach themselves to airborne particles such as dust, pollen, smoke and dander and drop them from the air. Negative ions can be actively produced by high voltage electricity run through metal which is how the Biozone effectively creates ions to clean the air.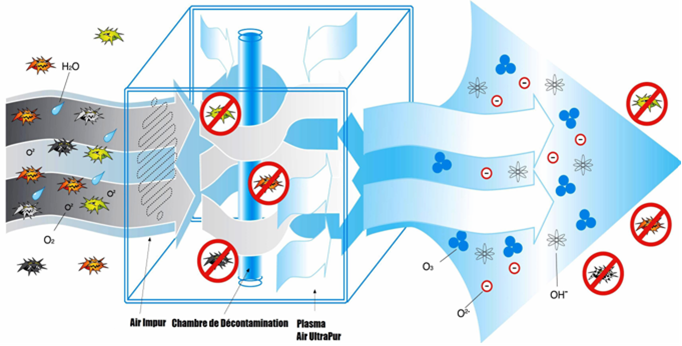 Biozone's Principles of Air Cleaning
Biozone Scientific Air Purifiers removes contaminants from air and surfaces by utilizing the principles of photochemistry, cold fusion plasma, and photo ionization through the photoelectric effect. While these methodologies have been well studied and documented by the scientific community, the synergy of their interaction produces a unique and a superlative way of cleaning air and surfaces of contaminants.
Photochemistry is the chemical reaction or change in material caused by exposure to light energy. The process typically requires the use of photons in the ultraviolet spectral range.
Ultraviolet radiation serves to excite or cleave chemical bonds and leads to the desired photo induced reaction. Energetic ultraviolet radiation is useful for disinfection purposes. For this application, the fundamental physical requirement for the ultraviolet light source is sufficiently high photon energy (wavelength) at the required intensity.
When sufficient photon energy is present, ultraviolet light becomes particularly useful in the destruction of contaminating organic compounds. Almost all indoor contaminants are organic. Organic compounds are carbon based. Many common organic compounds are based on the carbon and hydrogen combination, or hydrocarbons. Hydrocarbons can be toxic volatile organic compounds such as formaldehydes and benzenes. Airborne, indoors dust particles like:
dander
hair
pollen
dust mite feces
etc.
is based upon organic compounds generally associated with the lipid group. Biological contaminants like bacteria, viruses, and fungi are carbon based. Photochemistry can break down these harmful organic molecules.
Ultraviolet light with enough energy such as in the 100 - 280 nanometer wavelength range can break down the electron bonds of an organic molecule. The shorter the ultraviolet wavelength the more energy created to break molecular bonds. All organic material is photodegradable at certain wavelengths.
Ultraviolet wavelengths in the 100 - 280 na ometer bandwidth not only break down electron bonding of an organic molecule, but also initiate the formation of cold gas plasma. Plasma is an excitation of gas by radio frequency energy. In our case, we excite gases by the energy from ultraviolet light waves. We create a highly energized gaseous state. The plasma, or highly energized gaseous state, is aggressive and highly reactive and contains:
excited atoms and molecules
ionized gases
radicals
free electrons.
It can destroy just about all-organic contaminants. The destruction mechanism primarily involves the photo dissociation of molecular oxygen leading to the formation of highly oxidizing species, such as atomic oxygen, molecular singlet oxygen and ozone. These agents interact with contaminants converting most toyolatilized carbon dioxide and water.
The UV radiation also creates electron ejection of organic molecules that produces additional free radical creation. The radicals react with oxygen producing hydro peroxide ions. The hydro peroxide process activates a chain reaction with organic compounds triggering further oxidation. When additional hydrogen is added as in the form of water or water vapor (humidity), the highly oxidative species hydroxyl radicals is created.
These radical ions are stable but a very potent one-electron oxidant. They are very destructive to organic contaminants because they steal hydrogen atoms from the organic materials, leaving decaying carbon ions. The theft of hydrogen from organic molecules forms even stronger hydroxyl radical bonds with even higher oxidation potential. This entire process turns into a chain reaction - the breakdown and formation of new hydroxyl radicals results in the continual decay of organic material.
While the photoelectric effect created by high energy ultraviolet light is ejecting electrons from a molecule, it is further enhanced by irradiating what is called a "photoelectron emitting member" with ultraviolet light. A photoelectron-emitting member may be made of any material that emits photoelectrons upon exposure to ultraviolet radiation. Such a photoelectron-emitting member is contained in Biozone Air Purifiers.
The photoelectrons ejected from the photoelectron-emitting member are used to charge fine particles in a gas, which are then removed from the air stream as biozone scientific air purifiers pure science they attach to oppositely, charged surfaces. This electrically charging of dust and other particulates can remove particles as small as .001 micron. It should be noted that each of the electron ejections could cause multiple ionization events.
For example, in the photoelectric effect, the photon undergoes only one interaction, yet thousands of ionizations can be caused by the resultant electron and its products.
The combination of ultraviolet light and plasma has been reported to be an extremely potent in removing contaminants from surfaces. As an example and for comparative purposes, it has been estimated that removing biological contaminants from surfaces by corona discharge created ozone may take 10 hours. Ultraviolet light in the highly bactericidal range of 253.7 nanometers would take 1 hour for the same result.
Corona discharger ozone and ultraviolet light combined would achieve the same result in 1.5 minutes. However, the use of a broader and more energetic ultraviolet bandwidth combined with the resulting plasma would clean the same surface in 20 seconds.
The Success of The Biozone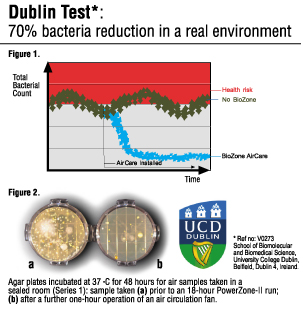 The key to the success of Biozone's purifying methods is the creation of a cold gas plasma, which is referred to as Purifying Plasma. Biozone's Purifying Plasma is an excitation of gas by radio frequency energy - in this case, gases excited by the energy from ultraviolet light waves, which creates a highly energized gaseous state. The plasma, or highly energized gaseous state, is aggressive and highly reactive and contains excited atoms and molecules, ionized gases, radicals, metastable particles, and free electrons. It can destroy a vast array of indoor contaminants.
Biozone's Purifying Plasma is mainly oxygen plasma created from the oxygen in the air. When oxygen is energized with light wave energy, aggressive and highly reactive plasma is created that contains positively and negatively charged atomic oxygen (which is just one atom of oxygen), neutrally charged atomic oxygen, ozone, ionized ozone, metastable excited oxygen and free electrons. In addition the hydrogen atoms are excited in water vapor and in organic material, which also react and combine with the oxygen atoms creating the radical species known as hydroxyl radicals.
The contents of Biozone's Purifying Plasma include many of the purifying elements previously described, i.e., ozone, oxygen singlets, hydroxyl radicals, and negative ions. When combining Purifying Plasma with ultraviolet light, the air and surfaces can be cleaned 2000 times quicker than ozone alone and 180 times faster than just ultraviolet light alone.
The benefits of UV/Plasma methodology produce many advantages over other air purifiers that use only one method such as ozone. Commercially, ozone is generally produced by using high voltage electricity (corona discharge) or by ultraviolet light.
Most manufacturers of portable ozone generators use corona discharge which produces a very high concentration of ozone gas. These machines can quickly bring the ozone levels in a room way beyond the Federal Safety Limits and expose inhabitants to potentially harmful byproducts such as nitric oxide and nitric acid, both considered unhealthy to breathe. Further, the ozone generating plates used for the actual creation of ozone need constant cleaning and replacement.
While ozone is part of Biozone's Plasma, it is not needed in high concentrations for purification; the addition of other purifying oxygen and hydrogen atom and molecular structures allow Biozone to produce a most effective purifying device but without the hazards associated with too much ozone.
Biozone's Advanced UV Purification Process
Biozone Air Purifiers dramatically improve indoor air quality, ensuring that the air people breathe is fresh and safe. Through an advanced UV purification method, these products effectively neutralize unpleasant odors and kill unhealthy contaminants. The key to the purification process lies in the proprietary, dual-purpose UV lamps, specially designed for Biozone. This dual purpose consists of purification by direct UV light exposure and by a "search and destroy" approach to decontamination and sanitation.
Ultra violet light is used to neutralize odors and volatile organic compounds, while killing germs, bacteria, molds and dust mites. Biozone takes advantage of the high frequency, high energy and germicidal characteristics of the UVC light spectrum to accomplish this. This UV process is somewhat analogous to the process of creating steam out of water. The ambient air and moisture that is naturally occurring around us becomes energized as it is exposed to the high intensity UV light, equivalent to exposing water to a heat source.
This high energy state allows the O2 (Oxygen) and the H2O (water vapor / moisture) to collide and temporarily combine or break into various molecular forms such as O, OH, O3, H2O2, in addition to the always present O2 and H2O. These new and temporary molecules are effective oxidants and cleaning agents, helping decontaminate the air and surfaces.
These cleaning agents are released into the air to "search and destroy" pollutants. Over time, the energy level of these molecules diminishes and the ambient air and humidity returns to normal levels, equivalent to the process of condensation of steam into water.
O3 (ozone) is a bi-product of this process. Fortunately, it is neither the main output nor the only output. Biozone make a deliberate effort to manage the amount of O3 generated, through the use of custom-designed, dual-purpose UV lamps, therefore blocking part of the UVC spectrum that contributes to a higher production of O3.
Concerning bacteria, mold, viruses, dust mites and other microscopic organisms, they are known to be affected by a specific range of the UVC spectrum near the 253.7nm UVC wavelength, better known as UVG. When these microorganisms are "directly exposed" to the UVG light, their DNA is altered to the point of self-destruction.
While, the UVC high frequency light cannot penetrate the human skin enough to cause any considerable damage, it could cause minor eye irritations or burns after prolonged exposure. Therefore, we strongly discourage direct visual exposure, especially during installation or lamp replacement. Please read the product manual for specific instructions.
Biozone Company information and Goals
When Biozone Scientific first started, there goal was to use science and electronics to develop advanced purifying technologies and use those technologies to produce the "ultimate" air cleaners. Today, there products are used around the world in homes and businesses such as: hospitals, clinics, doctor's offices, hotels, restaurants, taxi cabs, limos, trucks, boats, farms, factories, and even in agencies of our Federal Government. Being in the forefront of purifying technology, they will continue to provide cutting-edge products to meet the growing global demand for advanced air purification processes.
Who they are...
Headquartered in Orlando, FL USA, Biozone Scientific, Inc. was founded in 1996, and has been harnessing the natural powers of Ultra Violet light ever since. By designing and manufacturing relevant and effective solutions for air purification, Biozone Scientific has been able to serve residential and commercial customer needs all over the world. Under new ownership, beginning in 2004, Biozone began a transformation that includes a re-allocation of company resources focused primarily on the development of air purification products. Today, Biozone has a strong management team with years of relevant experience that is leading the company to a new age of high quality products.
What they do...
Biozone is in the business of helping people live happier, healthier and more comfortable lives inside their homes and places of work, by improving the quality of the air they breathe, eliminating unpleasant odors, and destroying harmful bacteria and unhealthy contaminants. They design and manufacture a broad line of air purification products, based on an advanced purification process using Ultra Violet light.
Why they do it...
Indoor Air Quality is a major problem, affecting every corner of the world. The phenomenon of "Sick Building Syndrome" was identified many years ago and has yet to be eradicated. For these basic reasons, they believe the worldwide demand for purification solutions is significant and is experiencing rapid growth. By positioning Biozone to meet the demand associated with this growth, they will be able to serve the needs of there customers and lead the industry in this endeavor. They're dedicated to researching the problem of indoor air pollution and will continually strive to develop effective, efficient, safe and reliable solutions for both the home and the workplace.
Where they do it...
Biozone's manufacturing and product development facilities are located in Vero Beach, Florida, while marketing, sales and administrative functions are managed in the Orlando office. All product development takes place in the USA, in addition to the manufacturing of commercial products. During 2004, the company successfully outsourced manufacturing of its residential product line to better support high volume production. In addition, there are partners and affiliates representing Biozone products in most continents around the world.
WE CANNOT SELL BIOZONES TO CALIFORNIA RESIDENTS SO PLEASE DO NOT ORDER THIS ITEM IF YOU LIVE IN CALIFORNIA AS WE WILL NOT BE ABLE TO SHIP IT TO YOU AND WILL HAVE TO SIMPLY ISSUE A REFUND!
New California Regulation requires Biozone Scientific to submit an air purifier for testing to become approved by the California Air Resources Board. To this date Biozone has not submitted the requested products, therefore, we are unable to sell any Biozone units to California residents. We are however, able to sell Air Oasis Air Purifiers which utilize the exact same purifying technology as the Biozone Air Purifiers, however, are made with higher quality materials and have a longer warranty (3 years)! Air Oasis Air Purifiers are made with a proprietary Nano Nickle HTC blend of five rare catalyst metals used to increase the kinetic rate of reaction to improve the indoor air quality of your home. Click here to view there selection now!
All of these benefits plus low-cost operation make the Biozone Air Purifier a great choice for your home and office needs.
There are no filters to change, nothing to constantly clean, wash or replace. Just once-a-year replacement of the UV light is all that's required in most instances! Try one of these remarkable units in your home and begin enjoying fresh, clean air today!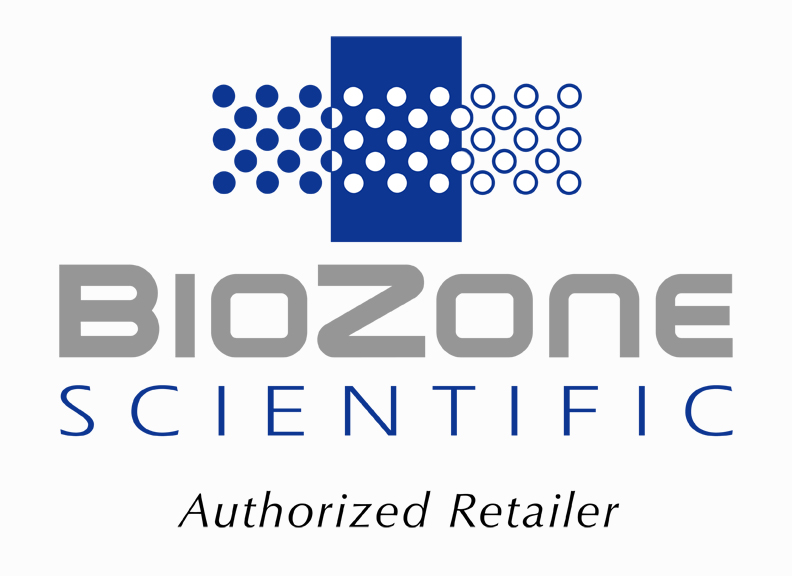 STOP SEARCHING, YOU'VE FOUND THE RIGHT STORE!
Start living healthier today; stop wasting your time searching other stores, we've narrowed your search for you and provide the best results on the best products around! 
Quality Products at the lowest prices available
Authorized Online Dealer
30-Day Money-Back Guarantee
Exceptional Live Customer Service
Convenient Yearly Replacement Part Reminders
More Detailed Information on Each Product than you can Find Anywhere else!
Copyright © 2006-2011 Cleanair4life