Air Oasis 3000XG3 Light Commercial Air Purifier
New and Improved G3 Series -The third generation in Air Oasis Technology- is finally here!
More Energy Efficient- only 15 watts of power!
More User Friendly- alarm beeps when lamp needs replacing
Destroys Bacteria, viruses, mold and odors
Uses less than 0.09 ppm ozone
Purifies 3000 square feet of office or commercial space
Helps reduce employee sick days
3 Year warranty
Still Made in America!
The highly accredited West Texas A&M Univerisity has proven the effectiveness of the Air Oasis in reducing microbes and indoor aeroallergens. Read on to learn more.
Detailed Product Description
This Purifier Removes:
VOC's
Mold and Bacteria
Odors
Cigarette Smoke
Viruses
Ethylene Gas
Chemicals
MRSA
How Do They Work?
Air Oasis Air Purifiers sanitize the air and surface using a patented purification process. This technology does not rely on filters to purify the air and can actually penetrate fabrics, carpets and clothing to remove odors and other impurities. Filter-based purifiers CAN'T do that!
It simply produces a blanket of cleaners (redundant oxidizers) that will clean your air and sanitize surfaces at the same time.
The Air Oasis air purifiers work using a Proprietary patent-pending Nano Nickel HCT Catalyst that is created from a secret blend of five rare catalyst metals. In plain english this means they use expensive parts to get the job done!
Most other air purifiers use a simple, cheap, singular metal element as there catalyst which does not create the kind of kinetic rate of reaction as the Air Oasis blend of metals does. Because of this, the Air Oasis Air Purifiers have the ability to eliminate particles down to 0.001 microns in size which includes the ultra-tiny particles that are most harmful to your lungs.
Air Oasis purifiers actually use a blanket of cleaning agents (super-oxide ions and hydroxyl radicals) that destroy living microorganisms like bacteria, viruses and germs by attacking there reproductive function and rendering them harmless.
This technology has been used for years in hospital settings to disinfect equipment, in meat-packing plants to reduce the amount of cross-contamination and dentists offices to keep germs at bay.
Where Does this Technology Come From?
NASA!!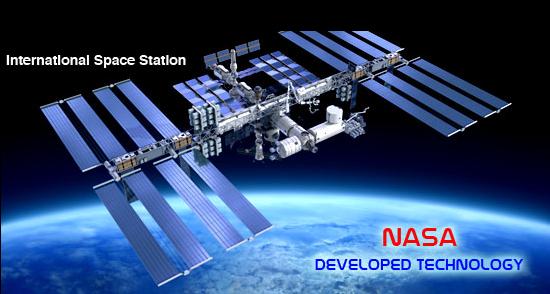 Air Oasis Air Purifiers provide you with NASA developed technology at it's best. More than 20 years after NASA put the first man on the moon, they developed a technology to aid in the reduction of ethylene gas, thus increasing the shelf life of fresh produce.
NASA later discovered the same technology effectively erradicated mold, bacteria, viruses, etc. which helped keep astronauts healthy while on space missions.
Air Oasis took the NASA developed Ethylene Scrubber technology and enhanced it making it far superior to any other product available in our industry.
Why Are These Purifiers So Much Better than Others?
These purifiers stand out, not only because of there blend of 5 rare catalyst metals but also because of there Proprietary Long-Life Coating™ on the UV lamps to allow the UV Lamps to outlast any lamp on the market.
This coating is applied to all the UV Germicidal Lamps eliminating the problem of quicker depreciation associated with higher intensity lamps.
The Air Oasis lamps are designed to last approximately 16,000 hours with average use; that's almost double the average life of a standard quartz lamp at 9,000 hours!
With the extension of hours that this Long-Life Coating™ creates, you can feel great knowing that you won't have to replace your UV Lamps as often, which in turn SAVES YOU MONEY AND HELPS REDUCE LAMP WASTE FOR THE ENVIRONMENT!

In addition, by using the same broad spectrum 254 nm UV Light as created by the sun, Air Oasis can achieve the same oxidizing and ionizing benefits found in nature. By combining the unique Nano-Nickle HTC Catalyst™ technology with this spectrum of UV Light, Air Oasis is able to achieve unparalleled results in air purification!
An all-around great decision and investment in your health and the health of our environment.
What Are They Made of?
Air Oasis is not made from cheap plastics, but made with high quality aluminum metal housings with metal internal brackets and other high quality metals and materials.
Combined with the Long-Life Coating applied to the UV Germicidal Lamps, this makes the Air Oasis a superior investment in your health. At Cleanair4life, we believe this purifier is Worth it's weight in Gold!!
Air Oasis 3000XG3 Light Commercial Air Purifier Specifications:
| | |
| --- | --- |
| Dimensions | 4" x 4" x 17.5" |
| Weight | 5lbs |
| Air Flow | 11 CFM |
| Ozone Output | less than 0.09ppm |
| Electrical | 12VDC, 15 Watts |
| Warranty | 3 years |
| Coverage | up to 3000 square feet |
| Replacement Cell | AHPCO-6-G3 |
Where Can I Use it?
Air Oasis Air Purifiers can be and are currently used in many locations providing pure clean air to those facilities invested in providing improved Indoor Air Quality to there staff, to families who want to protect themselves from harmful bacteria and viruses, and to schools who understand the importance of great air quality.
Locations that can benefit greatly from the use of an Air Oasis Air Purifier:
Schools
Offices
Homes
Hotels
Libraries
Pet Stores
Nail Salons and hair salons
Fresh Produce Warehouses
Veterinary Clinics
Fire & Water Damage Restoration
Locker Rooms and Gyms
and much more....
Air Oasis Features:
Covers up to 3000 square feet
Whisper Quiet Operation
Low Maintenance
3-Year Warranty
Uses two technologies: UV Germicidal Light and NANO Nickle HTC PCO Technology
Energy Efficient and Environmentally Friendly
Air Oasis Purifiers use less than 30 watts of energy saving you money and reducing the footprint of excessive energy waste compared to lots of air purifiers on the market which can use 100 watts or more to perform the same or worse.
In addition, filter-based units require replacement of filters every 6 months or more, thus creating a large problem for our landfills. Air Oasis Air Purifiers do not require any filters to be replaced and only require 1 replacement part every 2 years!
Air Oasis Benefits
Eliminates Odors
Smoke
Pets
Food
Chemicals
Gaseous Fumes
Much More...
Reduces Contaminants
Dust Mites
Allergens
Mold
Bacteria
Viruses
Odors
VOC's
Flu
Purifies Everywhere!
Homes
Offices
Living Areas
Bedrooms
Bathrooms
Basements
Kitchens
Nurseries
Hotel Rooms
Test Results
Study Results from West Texas A&M University
Reduction of Microbial Colonies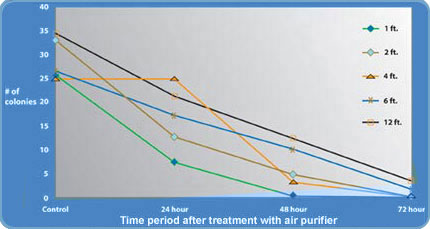 Reduction of Indoor Aeroallergen Concentration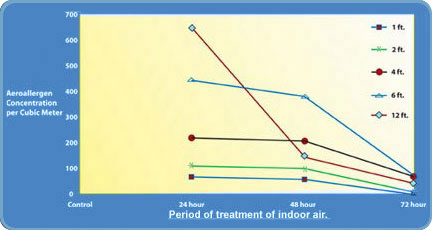 Intro to the Aeroallergen Reduction Report written by The West Texas A&M University
"Aeroallergens are often the cause of serious allergic and asthmatic reactions, affecting millions of people each year. To aid in the diagnosis and treatment and reduce the ailments of these individuals suffering from various indoor aeroallergens, a thorough understanding and control of the indoor aeroallergens and other airborne particles are necessary. Weather conditions and diurnal cycles play an integral role in the passive and active discharge of spore and pollen. Warm dry weather conditions promote passive dispersal of dry air spora, including Alternaria, Cladosporium, Curvularia, Pithomyces and many teliospores. Diurnal levels of these spores usually have peaks during the afternoon hours under the conditions of low humidity and maximum wind speeds. Moist weather conditions promote the active dispersal of moist air spora, such as the explosive release of ascospores from Ascomycetes, and the expulsion of basidiospores from the gills of the Basidiomycetes.
Pollen grains are released by flowering plants following the particular season for pollen production specific for each plant species. As we recorded for the last five years the most significant aeroallergens of the Texas Panhandle were fungal spores from Alternaria, ascospores from Pezizales, Dreschlera, Cladosporium, Curvularia, and pollen from short ragweed, grass pollen, common sunflower, hairy sunflower, buffalo bur, purple nightshade, and lamb's quarter. Offices, working places and schools face the challenge of an increasing number of workers and children with pre-existing health conditions which are affected by the Indoor Air Quality and other environmental factors. Indoor Air Quality (IAQ) in offices is an important aspect. Indoor levels of air pollutants can be 2-5 times higher, and occasionally 100 times higher, than outdoor levels. Surprisingly, nearly 55 million people, 20 percent of the US population, spend there days inside offices and schools. An estimated 50% of the nation's schools have problems linked to Indoor Air Quality. The neglect of IAQ can cause or contribute to short and long-term health problems including asthma, respiratory tract infection and disease, allergic reactions, headaches, nasal congestion, eye and skin irritation, coughing, sneezing, fatigue, dizziness and nausea. Not only does poor indoor air quality contribute to an unhealthy environment, it also hastens building deterioration....."
Click Here to View the Lab Report on Indoor Air Quality
Reduction of MRSA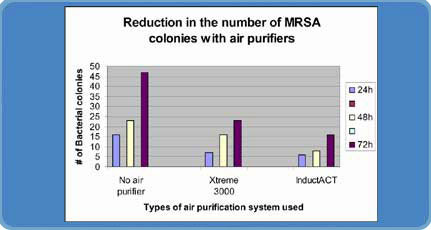 Intro to the MRSA Reduction Report written by The West Texas A&M University
"The air surrounding us plays an extremely important role in our well being and efficiency. Breathing pure and clean air allows us to think more clearly, sleep more soundly and stay healthier. Studies show that we receive 56% of our energy from the air we breathe, more than from water and food combined. On average we breathe 37 pounds of air a day (equivalent to volume of an Olympic sized pool). In previous experimental studies utilizing the Xtreme 3000 air purifier, it has been established that the use of negative ions in a purification system is an effective means of eradicating aeroallergens such as mold and microbes in room air. Studies conducted by the United States Department of Agriculture (USDA) have illustrated the ability negative ion air purifiers to significantly reduce the airborne amounts of Salmonella enteriditis in rooms containing infecting cage laying chickens. The removal of bacterial pathogens from the air, especially in diseases that are transmitted by droplets like Mycobacterium tuberculosis, is a promising way to reduce disease transmission in the clinical healthcare setting...."
Click Here to view the full report on MRSA Reduction by the West Texas A&M University

MADE IN AMERICA!!
These days, not much is made in America. By purchasing this product, you are supporting American businesses and can be sure it is made with the utmost quality in mind.
Try an Air Oasis Home Air Purifier RISK-FREE in your home today and begin enjoying the benefits of fresh, clean air!

Air Oasis Limited 3 Year Warranty Air Oasis gives you the following limited warranty for this product only if it was originally purchased for residential or commercial use, not resale from Air Oasis or an Air Oasis Authorized Retail Dealer. This limited warranty covers the replacement of expendable or consumable parts such as the AHPCO Cell for one (1) year. This limited warranty does not apply to any part subjected to accident, abuse, commercial use (for residential units), alteration, misuse, damage caused by act of God, the use of voltages other than indicated on the label displayed on this product or service of this product by anyone other than Air Oasis. Air Oasis does not authorize any person or representative to assume or grant any other warranty obligation with the sale of this product. Air Oasis' limited warranty is valid only if you retain proof of purchase from Air Oasis or an Air Oasis Authorized Retail Dealer for this product. If you purchase this product from any other source, your purchase is "AS IS", which means Air Oasis grants you no warranty, and that you, not Air Oasis, assume the entire risk of the quality and performance of this product, including the entire cost of any necessary servicing or repairs of any defects. Air Oasis' liability for damages to you for any costs whatsoever arising out of this statement of limited warranty shall be limited to the amount paid for this product at the time of original purchase, and Air Oasis shall not be liable for any direct, indirect, consequential or incidental damages arising out of the use or inability to use this product. ALL EXPRESS AND IMPLIED WARRANTIES FOR THIS PRODUCT, INCLUDING IMPLIED WARRANTIES OF MERCHANTABILITY AND FITNESS FOR A PARTICULAR PURPOSE, ARE LIMITED IN DURATION TO THE WARRANTY PERIOD, AND NO WARRANTIES, WHETHER EXPRESS OR IMPLIED, WILL APPLY AFTER THIS PERIOD. Some states do not allow limitations on the duration of implied warranties, so the above limitation may not apply to you. This warranty gives you specific legal rights, and you may also have other rights which vary from state to state. To obtain warranty service and return authorization number, contact us at: PH: (800) 936-1764, FAX: (806) 373-7799 or E-mail to feedback@airoasis.com NOTE: All returned packages that do not have an RMA# will be refused.
Easy Maintenance, Energy Efficient Ionic Air Purifier

I was sold on this ionic air purifier when I saw the energy use statistics: only 15 watts for a powerful air purifier like this? 3000 square feet of ionic air purifying power without having to change any filters or anything? Even though it's designed for commercial use, this ionic air purifier is really effective in pretty much any environment.