VIOlight Countertop Toothbrush Sanitizer
People Are Going Crazy for the Toothbrush Sanitizer that Kills 99.9% of Germs, Bacteria and Viruses from your Toothbrush Within 10 Minutes!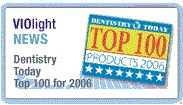 Your Toothbrush Cleans your Teeth but What Cleans your Toothbrush?
Billions of bacteria and germs are accumulating on your toothbrush right now, not to mention spray from the toilet, the shower, dust mites settling on it, and the occasional...oops, dropped on the floor by another family member.
With all these uncertainties lurking around the one thing designed to clean your mouth and provide fresh breath, it's a wonder why anyone wouldn't use a toothbrush sanitizer!
How Does It Work?
Using the same proven technology hospitals have been using for years to sanitize their equipment, the VIOlight Sanitizer uses UV Germicidal Light to eliminate over 99% of germs within 10 minutes with no steam, no heat and no water to add.
You simply place your toothbrush in the sleek sanitizer when your done brushing your teeth, turn it on and within 10 minutes, the UV Light will have killed all living contaminants. It's Just That Easy!!
Safe for all ages and easy to use, the VIOlight is the perfect choice for toothbrush sanitation.
Also available in travel size!
Benefits
Reduces cross contamination from one toothbrush to another
Reduces dust build up on toothbrushes
Destroys bacteria that multiplies on your toothbrush daily
Kills harmful germs like Streptococcus, E.Coli, and Salmonella
Features
Sanitizes your toothbrush in 10 minutes
Automatically shuts off when complete
No risk in temperature or chemical burns
No maintenance needed
Easy to remove drip cup
Sleek Design
Cool night light
Doubles as a toothbrush storage container
Why Should You Buy a VIOlight Toothbrush Sanitizer?
Because the 'As Seen on TV' Toothbrush Sanitizer works and works well!
Reasons People Are Going Crazy Over the Toothbrush Sanitizer
Maintenance Free
Easy to Use!
Affordable
Small, sleek design
Powerful little machine
Safe for all ages!
Recommended by all
Maintenance Free
The VIOlight has no filters to replace, just a simple little light bulb that is as easy to replace as your household bulbs. The VIOlight UV Germicidal light bulb is designed to last over 2000 hours so replacing should only occur every 2 to 4 years depending on use. In addition, with no water to add, no filters to clean, it virtually takes care of itself. For an easy clean, just remove the bottom tray, wipe and return. It's just that easy!
Easy to Use
Nothing out of the ordinary here.... you simply brush your teeth as usual, rinse, place your toothbrush in the sleek VIOlight that doubles as a toothbrush storage cup and with the push of a button, the VIOlight starts working immediately to remove 99.9% of bacteria and germs from your toothbrush; automatically shuts off when complete. No need to move your toothbrush once it's done either, with the handy countertop design, you can protect your toothbrush throughout the day by leaving it there until the next use.
Affordable
The VIOlight replacement bubs are very inexpensive and only need replacing once every 2 to 4 years depending on use. This also helps reduce yearly waste in the landfills. Earth friendly and inexpensive!
Small, Sleek Design
The VIOlight Toothbrush Sanitizer is the size of an average toothbrush holder or cup so it won't take up any additional space on your countertop AND was designed to fit any bathroom decor. It was actually designed by the world-renowned Phillippe Starck to be the first toothbrush sanitizer that looks like it belongs in your home and not a laboratory!
Powerful Little Machine
This compact device uses the same technology hospitals use to sanitize their instruments in a small sleek system. It has been proven to kill 99.9% of dangerous bacteria like streptococcus, E.Coli, and salmonella by utilizing UV germicidal light. Prevent cross contamination from other family members toothbrushes to yours by using the tabletop sanitizer and storage system. It keeps all the toothbrush heads seperate and sanitized.

Safe for All Ages!
Since No heat is used to sanitize the toothbrushes, there is no steam and no way that any can get burned from using this device. No danger means safe for all ages and fun for kids to turn on!
Recommended by all
The Award Winning VIOlight has been recommended by 8 out of 10 dentist professionals. Business Week Gold 2006 Medical & Scientific Products IDEA Awards!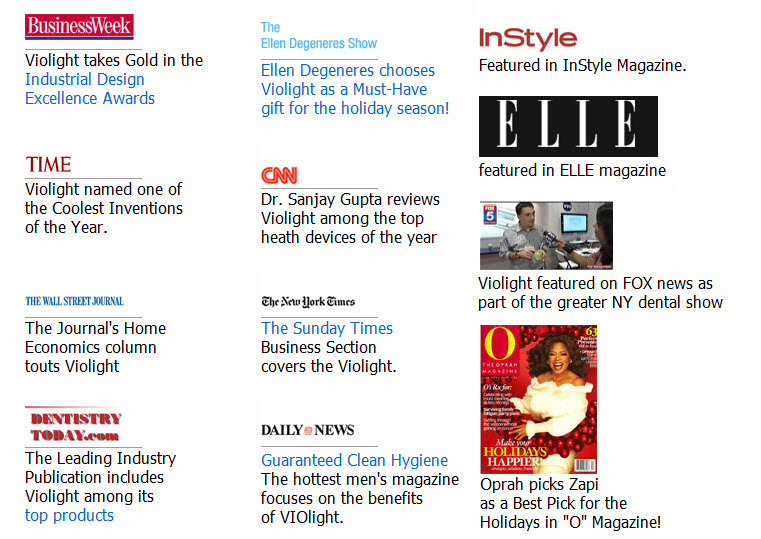 Never use a dirty toothbrush again! Try the VIOlight Toothbrush Sanitizer Today!!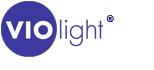 STOP SEARCHING, YOU'VE FOUND THE RIGHT STORE!
Start living healthier today; stop wasting your time searching other stores, we've narrowed your search for you and provide the best results on the best products around!
Quality Products at the lowest prices available
Authorized Online Dealer
30-Day Money-Back Guarantee
Exceptional Live Customer Service
Convenient Yearly Replacement Part Reminders
More Detailed Information on Each Product than you can Find Anywhere else!
Copyright © 2006-2011 Cleanair4life
1 Year Warranty
Love this sanitizer. Works great